Dieser Artikel wurde am 03.09.2017 zuletzt geupdatet.
Was für ein Word. Das fällt wohl unter die Kategorie Nerdwortschatz. Nun gut. Die Perks (Spezialisierungen) kommen, und zwar mit dem zweiten DLC In the Name of the Tsar. Wie genau die in Battlefield 1 funktionieren, erkläre ich euch hier.
Es gibt insgesamt 15 Perks. 7 Stehen dabei jeder Klasse zur verfügung, dazu hat jede Klasse noch 2 eigene Spezialisierungen, welche wieder durch sogenannte Service Assignments freigespielt werden müssen. Die Perks können teilweise miteinander verbunden werden, wodurch sich ihre Wirkung addiert. Insgesamt können bis zu 3 Spezialisierungen gleichzeitig verwendet werden.
Super Idee um das Squad-Spiel zu verbessern, oder was meint ihr? Dice möchte damit die Spieltiefe erhöhen und die Klassen noch weiter spezialisieren. Ich könnte mir vorstellen das die Perks ungewollt an der guten Balance des Spiels rütteln.
Die neuen Service Assignments
Die so genannten Service Assignments sind Missionen um die Perks freizuschalten. Ähnlich wie beim Freischalten von Waffen müssen Aufgaben erfüllt werden. Allerdings nicht zwei wie gewohnt, sondern fünf von insgesamt sechs. Dabei sind die ersten Pillepalle, wie 15 Revives, X Abschüsse etc., die letzten haben es aber in Sich, bzw. dauern einfach länger: 10 Multikills, 25 Runden in einem spezifischen Modus, 25 Kills mit Debris, 50 zerstörte Telegrafenemasten oder 50 Gasgranaten Kills.
Alle 15 bisher bekannten Perks
Im Folgenden gibt es alle bisher bekannten Perks in Listenform, danach gibt es noch einen ersten Entwurf aller Service Assignments für die Perks, welche zu diesem Zeitpunkt noch nicht offiziell bekannt sind.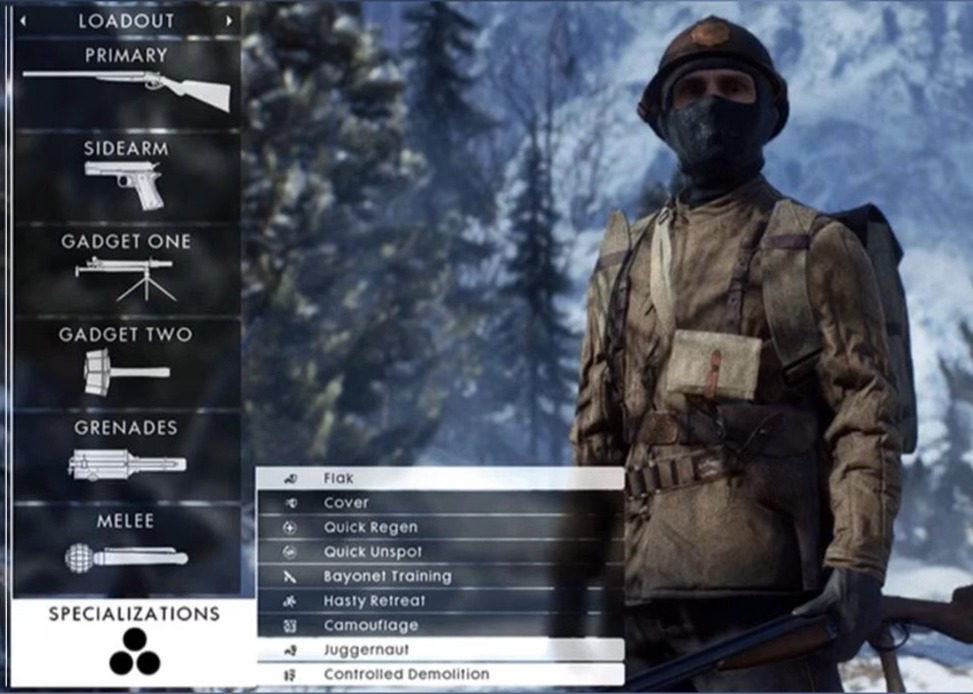 Generisch (für alle Klassen):
Flak: Schaden durch Explosionen um 15 Prozent verringert
Cover: Unterdrückungseffekt um 25 Prozent verringert
Quick Regen: Zeit bis Autoheilung beginnt um 20 Prozent verringert
Quick Unspot: Wenn man gespottet wurde, wird die Markierung zwei Sekunden eher aufgehoben
Bayonet Training: Bajonett-Angriff hält eine Sekunde länger, Abklingzeit um eine Sekunde reduziert
Hasty Retreat: Sprint-Geschwindigkeit um 10 Prozent erhöht, solange man beschossen wird
Camouflage: Spieler wird nicht durch die Signalpistole für Gegner markiert, wenn er kriecht oder stillsteht
Sturmsoldat (Assault):
Juggernaut: Gasmaske reduziert Schaden durch Explosionen um 15 Prozent (nicht mit anderen Boni kombinierbar)
Controlled Demolition: TNT-Ladungen werden nacheinander gezündet
Sanitäter (Medic):
Stimulant Syringe: Eine Wiederbelebung gibt dem Sanitäter und den wiederbelebten Spieler 20 Prozent höhere Sprintgeschwindigkeit für 8 Sekunden (nicht mit ähnlichen Boni kombinierbar)
Concealed Rescue: Squad-Mitglieder, die innerhalb von 20 Metern um den Sanitäter niedergeschossen werden, zünden eine Rauchgranate zur Deckung (40 Sekunden Abklingzeit)
Versorger (Support):
Unbreakable: Unterdrückungseffekt gegen den Spieler um 75 Prozent reduziert, solange die Waffe auf dem Zweibein ruht
Pin Down: Die Spotting-Dauer eines Gegners kann durch Niederhalten verlängert werden
Späher (Scout):
Scapegoat: eine Attrappe wird automatisch platziert, falls der Späher aus hoher Entfernung beschossen wird und unter 35 Lebenspunkte fällt (30 Sekunden Abklingzeit)
Perimeter Alarm: Wenn eine Stolperfalle ausgelöst wird, werden alle Gegner im Umkreis von 15 Meter automatisch markiert.
Die Service Assignments
Getting Started
1   Storm the Doors 
        Challenge #1    Perform 20 Kills with the MP18 Trench   
        Challenge #2    Destroy 2 vehicles with Anti-Tank Grenades  
        Challenge #3    Neutralize 5 flags in Conquest  
        Challenge #4    As an Assault, bayonet charge 5 different enemies   
        Challenge #5    Perform 5 kills with Dynamite   
            Reward  50k Assault Kit XP

2   Selfless Courage    
        Challenge #1    Heal 20 different allies    
        Challenge #2    Revive 15 different allies  
        Challenge #3    As a Medic, perform 15 kills with Self-Loading rifles   
        Challenge #4    Perform 1 Multi-kill    
        Challenge #5    In a round, obtain the "Ribbon of Revitalization" 2 times   
            Reward  45K Medic Kit XP

3   Supporting the Support  
        Challenge #1    Resupply 20 different allies    
        Challenge #2    Repair vehicles for a total of 300 damage   
        Challenge #3    Perform 10 kills with either Crossbow Launcher  
        Challenge #4    Perform 20 kills using any LMG  
        Challenge #5    As a Support, suppress 10 different enemies 
            Reward  50K Support Kit XP

4   Eye on the Prize    
        Challenge #1    As a Scout, perform 4 headshots with any Rifle  
        Challenge #2    Perform 3 Spot Assist kills using the Trench Periscope  
        Challenge #3    Kill an enemy that has just killed a teammate   
        Challenge #4    Earn the Scout Ribbon of Valor ribbon in a match    
        Challenge #5    As a Squad Leader, place 5 orders in a round    
            Reward  30K Scout Kit XP

5   Omniverous Palate   
        Challenge #1    In a round, earn 4500 points    
        Challenge #2    Perform 10 kills with Tanks 
        Challenge #3    Deal a total of 400 damage to vehicles  
        Challenge #4    Successfully complete 10 Attack or Defend orders    
        Challenge #5    Play 2 rounds of Conquest on any map    
            Reward  50k XP

Staying Focused (Complete 5 of 6 Challenges to Unlock reward)
 5a Leading from the Front (Basic)
    Challenge #1    Perform 10 kills with Shotguns
    Challenge #2    As an Assault, destroy 5 vehicles
    Challenge #3    Perform 10 kills with the AT Rocket Gun
    Challenge #4    As Assault, perform 20 kills in a round
    Challenge #5    Perform 10 kills with Melee Weapons
    Challenge #6    Earn 1 Weekly Medal
                Generic - Bayonet Training

5b  Leading from the Front (Veteran)
        Challenge #1    Perform 10 Multi-Kills  
        Challenge #2    Destroy 25 vehicles with Anti-Tank Mines    
        Challenge #3    Perform 50 kills with Stationary Weapons    
        Challenge #4    Score 15000 points in a round   
        Challenge #5    Perform 30 Squad-Wipes  
        Challenge #6    Perform 50 Capture Point Attacker kills 
                Assault - Juggernaut

6a  Dependable (Basic)
        Challenge #1    Perform 5 Suppression Assist kills  
        Challenge #2    Perform 10 kills with the Mortar - Air  
        Challenge #3    Resupply 20 squad mates 
        Challenge #4    In a Round, repair vehicles for 800 damage  
        Challenge #5    Destroy 10 tanks with the Crossbow Launcher - HE    
        Challenge #6    Perform 10 Capture Point Defender kills 
                Generic - Inconspicuous

6b  Dependable (Veteran)
        Challenge #1    Perform 50 kills with the Perino Model 1908 Low Weight  
        Challenge #2    Destroy 25 Armored Cars with Limpet Mines   
        Challenge #3    In a round, obtain the Ribbon of Resupply 10 times  
        Challenge #4    Capture 100 flags   
        Challenge #5    In a single life, perform 5 kills as an Elite Class 
        Challenge #6    Perform 50 kills whilst on horseback    
                Support - Unbreakable

7a  Healing Hands (Basic)
        Challenge #1    Heal 10 different squad members 
        Challenge #2    Revive 10 different squad members   
        Challenge #3    Perform 20 Kills with the Auto-Revolver 
        Challenge #4    Get 30 kills with the Selbstlader M1916 Optical 
        Challenge #5    Perform 5 kills with the Medical Syringe    
        Challenge #6    Win a round of Rush on any map  
                Generic - Hasty Retreat

7b  Healing Hands (Veteran)
        Challenge #1    Heal Allies for a total of 10000 health 
        Challenge #2    Perform 50 Squad Savior kills   
        Challenge #3    Destroy 25 vehicles with Rifle Grenades HE  
        Challenge #4    Earn a total of 100000 points   
        Challenge #5    Finish a round in the Top 5 
        Challenge #6    As a Medic, perform 50 kills with Gas Grenades  
                Medic - Concealed Rescue

8a  Eagle Eye (Basic)
        Challenge #1    Perform 10 Spot Assist kills    
        Challenge #2    As a Scout accumulate 200m of headshots 
        Challenge #3    Perform 5 Squad Spot Assist kills   
        Challenge #4    As a Scout, perform 15 Headshots with any rifle 
        Challenge #5    Achieve 3 Spot Assist kills using Flares    
        Challenge #6    Kill 3 enemy Elites with K Bullets  
                Generic - Quick Unspot

8b  Eagle Eye (Veteran)
        Challenge #1    Achieve the Counter Snipe scoring bonus 50 times    
        Challenge #2    Perform 10 Avenger Bonus kills  
        Challenge #3    Kill 20 different enemies with Tripwire Bombs   
        Challenge #4    Perform 50 kills with the Lebel Model 1886 Sniper   
        Challenge #5    Win 10 games of Domination  
        Challenge #6    Headshot a Pilot with any single-action Rifle   
                Scout - Perimeter Alarm

9   Vehicular Chaos
        Challenge #1    Perform 15 road kills   
        Challenge #2    Down 25 planes using Stationary Weapons 
        Challenge #3    Perform 35 kills with the Cavalry lance 
        Challenge #4    Perform 45 kills whilst using any tank  
        Challenge #5    Perform 50 kills whilst using any plane 
        Challenge #6    Perform 50 Driver Assist kills  
                Assault - Controlled Demolition

10  It's Where you Stand
        Challenge #1    Destroy 10 Tanks on Amiens  
        Challenge #2    Perform 25 Melee kills on Argonne Forest    
        Challenge #3    Perform 100 Shotgun Kills on Ballroom Blitz 
        Challenge #4    Perform 5 Multi-kills on Monte Grappa   
        Challenge #5    Perform 50 Headshots on Nivelle Nights  
        Challenge #6    Kill 25 enemies with debris 
                Medic - Stimulant Syringe

11  Modal Yodel
        Challenge #1    Destroy 50 Telegraphs   
        Challenge #2    Perform 50 kills from Behemoths 
        Challenge #3    Complete 25 rounds of Supply Drop   
        Challenge #4    Complete 15 rounds of Frontlines    
        Challenge #5    Win 10 rounds of Team Deathmatch    
        Challenge #6    Complete 25 rounds of War Pigeons   
                Scout - Scapegoat

12  It's in the Game
        Challenge #1    Take 10 dogtags from enemies    
        Challenge #2    Perform 100 kills with Elite Kits   
        Challenge #3    Bayonet Charge 50 enemies   
        Challenge #4    Perform 40 kills with Explosives    
        Challenge #5    Obtain 5 kills with the Sawtooth Knife  
        Challenge #6    In a round, earn 10000 points   
                Support - Pin Down